Dua For Entering Home, Leaving Home
In this article you will learn about the dua for entering home and dua for leaving home, these two are very important duas which all of us should learn. We will go over short authentic duas in this article which are simple to remember. We should try our best to adopt these habits in the future. These duas are based on the sunnah and hadith of the Holy Prophet (PBUH) with given reference.
Dua Entering House in English Urdu
When you enter your house and mention Allahís name as youíre entering or eating your food, that automatically means there will be no food for satan in your home. Still, when you donít mention the name, satan not just stays in your home but also eats your meal and stays there all night.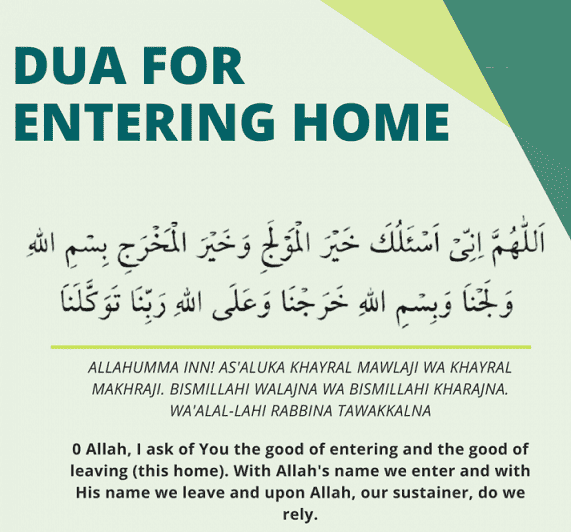 Dua Leaving House in English Urdu
As Prophet Muhammad PBUH says in a hadith that when a man steps out of his house and recites the dua for leaving home, there is no power except Allah to harm him in any way. The devil goes far away for him, and that person is always guided and protected.

dua for protection of house and family, dua for new house in islam, dua for new house in urdu, istikhara dua for buying house, wazifa for house construction, dua for new house shia, may allah bless your new home
dua when entering home in tamil, What to say when you enter your home Islam, Which Surah is good for House, How can I take Barakah at home, What is the Surah of protection.